What is web design?
It is that design that deals with developing your online product called site or website. We have to be clear about the medium and the context. In the online world, the context is the search engines. Hence the importance of a good design that follows the standards and adapts to some parameters
Why web design is important
Apart from an aesthetic criterion it is important that the web design is developed under the conception that the user is the center, so it must have usability or UX. A good web design must have UX, SEO and that is attractive and responds to what the market demands.
"Determine the needs of your customers and work them within your company"
What is web design about?
Here are some points that you should keep in mind of your web design.
Work SEO before designing
Perhaps the most unknown part of On line Marketing. Before designing you must carry out an SEO study, in order to define a structure and words that define your products / services. It is a very important previous work if you do not want to waste time afterwards and redesign your entire site again.
Responsive version is the most important
It is obvious but the mobile is everything. Start designing from the mobile version to transfer your design to a computer. It is obvious but it is not done correctly. Keep in mind that a design that is not responsive for mobile has no place either for the public or for search engines that suffer from this deficiency.
Simplify the structure
As we said before designing, planning. If you work in an SEO strategy things will be much easier. Important and very common error in the market, start designing without creating a structure with hierarchy of importance. The clearer and simpler your design is, the clearer your message will penetrate.
Offer content, explain how you are
Your website will serve your products or services and, consequently, your own brand. Clearly define your value proposition, which differentiates you from the competition, that you offer your users differently.
We analyze your website without the cost and without obligation.
Discover the weaknesses of your website and your business.
Why is web design important?
We have already explained some important per let us deepen them.
Elements that help a good web design
Everyone knows the importance of being on the internet and having on line presence That is why a good web design is essential to capture, attract and convince both potential customers and search engines.
In Alaska we are specialists in creating web pages from the initial phase. That is, from the pre-design phase, that phase that must be done to have a good SEO, keywords, url and categorization of elements to create a good online experience. This phase is the one that we consider most important and that receives less attention from business. There is no doubt that the on line unit is full of opportunities but that does not mean that we should not have an attractive and functional on line product.
Let's see below the elements from our On line Marketing Agency we promote in our projects. There are undoubtedly many more, but many of them are included in the following.
Responsive
Responsive design is already a standard in every web design. It is that design that adapts to mobile devices given the high traffic that these devices are acquiring. As we mentioned, it is normal that web design begins to develop from the mobile version to the desktop version.
Usability
Term and element closely linked to the responsive. Usability is the ease with which we develop our designs for good use by the user. The usability or call UX has certain elements already generalized and that everyone assumes as normal, we refer to user icon or the three horizontal stripes to highlight a menu
Simplicity
It is one of the maxims of a good design, simplicity and functionality. Basic concept of the Bauhaus. A reloaded design will cause our users to lose attention on the contrary if we choose a simple design and without reloading we are facilitating the reading, understanding and being able to find the products or services that we sell in a fast way
Structure
Schematizing, indexing information and categorizing services or products is an essential task before planning your online work so that search engines correctly interpret the information and therefore benefit us in our positioning. It is what we call web optimization.
Call to action
Perhaps it is the least known element and we could surely include it at the point of usability but we wanted to highlight it separately because it is extremely important to offer our users a call to action. We also call them CTA or call to action and they are the elements that give the user the opportunity to learn more about other content or even buy. The content of these CTAs is clear and consequently with the term how we define the call to action. Transparency and clarity is essential in any online project.
"Web sites should look good from inside and outside"
other services that may interest you
Complements the web design with good optimization and added services such as …
Do an SEO study before designing your website. Your reach will be greater in front of your audience and will give you an advantage over the competition.
The best tool to be in the first position of the search engine. We are certified by Google Partners.
That would be your social networks without creative content and value for the user. Check out our portfolio.
Benefits of having a good Web Design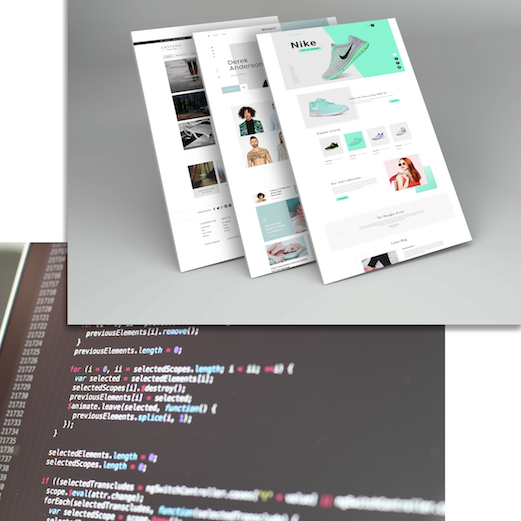 LET'S START SOMETHING NEW
TELL US HELLO!
Don't worry about wasting more time, if you want to leave us your email or phone and we get in touch as soon as possible.